Every Child a Reader
It is our ambition that every child becomes not only a proficient reader but that they also develop and love of reading and reading for pleasure. Our carefully planned phonics and reading curriculum helps to ensure we can meet this ambition.
The direct teaching of reading starts with storytelling, oracy and phonics. We follow the Read Write Inc phonics programme, with this being complemented by purposeful talk and the use of shared reading experiences that expose pupils to a wider range of vocabulary, syntax and sentence structure. As part of the RWI programme, children have a daily phonics lesson in which they participate in speaking, listening and spelling activities that are matched to their developmental needs. Information on our KS1 and Phonics curriculum can be found here.
Our Literary Curriculum for English ensures that every child is exposed to a range of quality texts to foster a love of reading through all their English lessons. This curriculum helps develops writers who love to read.
Whole class novels or stories are shared regularly with each class.
The love of reading and a culture of reading for pleasure is central to our ambitions for our children.  We have several library areas with a fantastic selection of books to offer our children. Every child has the opportunity to choose books frequently from our broad range of texts in a variety of genres.
Daily Whole Class Reading lessons take place once children have completed the Read Write Inc programme. These sessions develop reading skills and immerse children in quality texts. During our Reading lessons, children learn all the skills they need to understand a text: vocabulary, inference, prediction, explaining, retrieval, summarising and sequencing. We explore fiction, non-fiction and other forms including poetry and video. 
Fluency at Horncastle
To help learners focus on their reading fluency, various aspects of reading aloud have been separated into six key elements. Each aspect works in partnership with the others to produce a rich and vibrant reading performance:
Pitch: The musicality of the reading voice – including tone and intonation.
Power: The strength given to the reading voice – including volume and stress.
Pace: The speed and rhythm at which we read.
Punctuation: The adherence to and understanding of the marks an author has placed upon the page.
Pause: The knowing of when not to read and for how long.
Passion: The emotion of the reading – including empathy and sympathy and the development of a reader's love for the written word.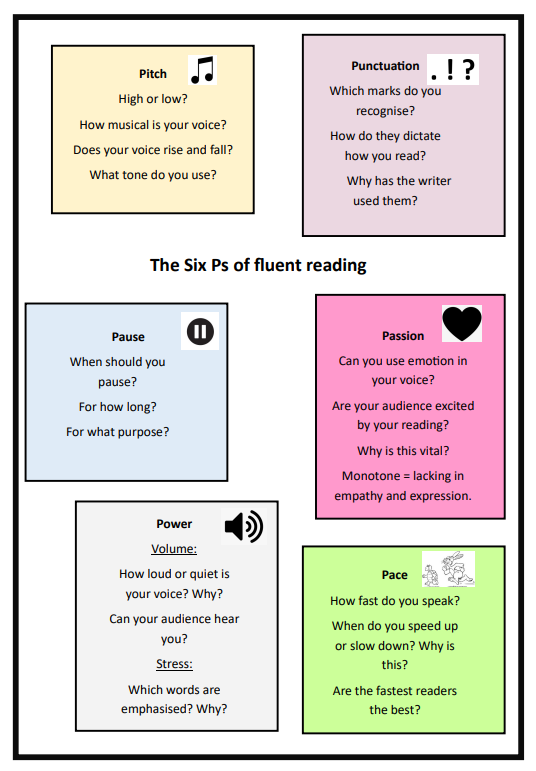 Why is it right for the children at Horncastle?
Our children are exposed to a range of genres and stories with characters which are both mirrors and windows to the world.  We want our children to be able to experience a world beyond Horncastle and what better way then to do it through books!  We want our children to not only be able to read, but to love reading, too. Reading is a fundamental skill that will aid the children in all areas of their lives and we love seeing them read for pleasure!